"This opposition to the Intellectual Property Law is ideologically based and premised on a false choice. Photocopying for profit for academic use is authorized under Law 8,039."
– Laura Chinchilla, President of Costa Rica
Last week, after thousands of Costa Rican students gathered outside the legislature to oppose a law that could make it illegal to photocopy extracts from textbooks, the President of Costa Rica decided to clear the air with a presidential decree clarifying the exception extended to photocopying academic material – – even if the photocopy shop makes a profit. (Source:
Tico Times
)
It is unfortunate that in the very same week that students in Costa Rica can confidently copy portions of educational textbooks from neighbourhood photocopy shops without fear of violating any copyright laws, students in India are prohibited from doing so even from a shop within their own university campus. Importantly, this is a photocopying vendor that has been selected by the university after floating a tender. In the interests of caution, a
license agreement
was drawn up containing strict
guidelines
– only
bona fide
students and faculty of the University could use the services and a uniform rate of 40 paisa ($0.01) per page could be charged which had to cover their equipment, labour and other operational costs.
Despite this, Delhi University and Rameshwari Photocopy Service have been restrained from photocopying extracts and compiling them into course packs for students. The injunction order passed by the Delhi High Court is available
here
.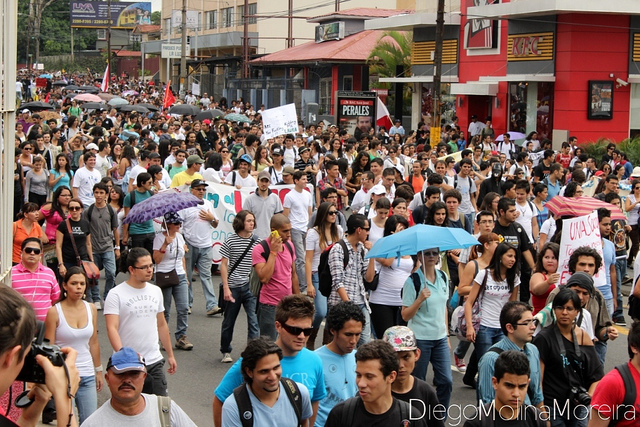 In Costa Rica, there was ambiguity as to whether the educational exception present in the Costa Rican Law for Observation of Intellectual Property (Law 8,039) would permit reproduction of extracts from textbooks since it wasn't clear whether for-profit photocopy shops would be covered by the exception. Worried students, academics and professors campaigned for a separate 'Photocopy Law' (Bill 17342) which would eliminate jail terms for intellectual property violations. Unfortunately, this was vetoed by President Chinchilla amid heavy lobbying and pressure from publishers of high-cost textbooks. Needless to say, the student protests caught the President's attention and she issued an immediate clarification.
Justice Minister Fernando Ferraro explained the crucial question: Did the academic exception for students and professors apply to photocopying businesses that perform the service for them on a for-profit basis? Ferraro said it does, and just to make sure, the new executive decree makes it explicit.
In the Indian scenario, the law provisions are fairly straightforward – Photocopying extracts is legal under S.52(1)(a) of the Indian Copyright Act that permits 'fair dealing for private use, including research' and 52(1)(i) that allows 'reproduction in the course of instruction by a teacher or pupil'. One may also refer to the post –
5 Reasons Why Course Packs Are Legal in India
for an elaboration of the reasons why photocopying extracts from textbooks
is
and
ought to be
permissible under Indian law. Unfortunately, the
injunction order
passed by the Delhi High Court last week is based on an
alleged 'admission', which was in fact a good faith defence
by the University under S.76 of the Copyright Act.
But it is looking increasingly likely that the order will be short lived. For one, it is only a temporary injunction, and not a final order. It is also becoming clear that Delhi University and Rameshwari Photocopy Services can both review this order (even if an appeal is not possible) – the University because its oral undertaking that it would not infringe works in the future was
misconstrued as an admission
and Rameshwari, as an authorised agent of the university, specifically entrusted with the task of making course packs, is allowed to take the educational exception under the Copyright Act. The applicability or non-applicability of these exceptions was not discussed in the order either.
Mind you, this isn't even comparing apples and oranges. Cost of textbooks in Costa Rica is comparable with the cost of textbooks in India and both countries have similar socio-economic conditions.
Empirical studies
have indicated that specifically in India, the cost of textbooks do not account for purchasing power parity and are beyond the means of university libraries, let alone students themselves. The cost of purchasing textbooks required for a legal education in India is incomprehensible (see
report
). In terms of legal provisions, it is fairly obvious that the Indian legislature sought to permit wide exceptions to copyright (see
Lawrence Liang:Educational Exceptions & Limitations to Copyright in India
) and there is no basis for holding course packs to be illegal.
The Facebook Page that organised the Costa Rican protest after years of pressure –
'Photocopy to Study'
has about 6,200 members. The Facebook page in India
'Save D School Photocopy Shop'
already has about 2,200 at the moment (you can join the group by clicking 
here
). Perhaps it is time for the publishers to take notice of the
petition
asking them to withdraw the suit against Delhi University and Rameshwari, which already has more than a thousand signatures  (you can sign the petition
here
). Else they might have to prepare themselves for a long and expensive litigation because the student populace in India will be sure to fight back.
(Thanks to Kaushik Sundar Rajan of the University of Chicago for pointing us to this. Images by Diego Moreira from Infojustice.org and the 'Photocopying to Study' Facebook page)