The patent prosecution highway (PPH) is a kind of bidirectional work sharing agreement between two patent offices which allows examiners of one patent office to reuse search and examination results already conducted by another patent office. This post aims to explore how India might possibly benefit by becoming a part of the patent prosecution highway program. 
The USPTO extended its first patent prosecution highway as a pilot program with Japan in July 2006. Since then the US patent prosecution highway program has expanded to include PPH alliances with 23 major patent offices around the world. The complete list of PPH participating countries can be accessed here. Some of the Asian PPH participants include Japan, China, Korea, and Singapore.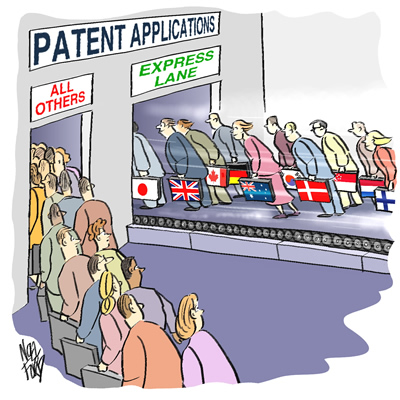 Fasten your seatbelts?
Image from here
Under the PPH, when at least one claim is deemed to be patentable by office of first filing (patent office receiving the priority patent application), the applicant may request expedited examination of the corresponding patent application claims in the office of second filing. 
A close cousin of PPH program is the PCT-PPH program wherein an applicant receiving a positive written opinion/International Preliminary report on patentability from one of the participating offices acting as International search authority may request for expedited examination of their corresponding national phase entry applications. 
In prosecuting patent applications an important aspect of a patent examiner's tasks is to search prior art and limit claims that are broad in scope and read on part of prior art. Around the world's patent offices, this task is essentially similar enough to be shared. Under the PPH program, the office of second filing (OSF) can rely on work products of office of first filing (OFF) thereby reducing redundancy. In a PPH alliance , office of second filing can save resources by using the search results of Office of first filing and the risk of disregarding a foreign language prior art is also substantially reduced. In fact the Indian patent office also currently uses work products of other patent offices as a reference, albeit indirectly through a Section 8 requirement. Section 8 of Indian patent act mandates that, an applicant must update the Indian patent office from time to time with details of search and examination reports of the foreign applications. 
The PPH program also offers several advantages which include accelerated examination (examination is completed within 3 months of PPH request provided the requirements are met), higher allowance rate (more than 90 percent of cases are allowed; only 50% of non-PPH cases are allowed). PPH participation also offers applicants the advantage of decreased prosecution costs owing to the substantial reduction in the number of office actions. 
For an application to be eligible for entry into US through the PPH program, it must meet the following requirements. The US application must claim foreign priority to the corresponding application in the office of first filing under Paris convention route or PCT route. The application must have at least one claim that has been declared allowable by office of first filing. The claims of the U.S. application, as originally filed or as amended, "sufficiently correspond" to one or more of the allowed claims in the office of first filing. Of course the fact that your application has allowable claims does not mean that the corresponding claims will be automatically allowed in the Office of Second filing (OSF). The OSF examiner will examine the application based on patent law in the Office of second filing. A comprehensive list of frequently asked questions can be found here. 
On the flipside, each patent office has certain benefits and shortcomings in terms of the quality and scope of examination and this might reflect in the quality of the issued patent. Furthermore patent applications containing non-patentable subject matter may not enjoy the benefits offered by the PPH framework. Also applicants who would like to delay prosecution for some strategic purposes will not stand to benefit from PPH. The possibility that Indian examiners might emulate American standards of patentability is also another risk associated with the PPH model. This may explain why some of the countries have not seen it fit to participate in the PPH. 
Overall though, PPH offers a lot of benefits to patent applicants and India's participation in the PPH program might very well incentivize innovation. The President recently lamented that India lags behind in filing patent applications. Hence, I believe that the PPH model which allows applicants to leverage allowance of claims from one office to another might lead to an increase in domestic patent filings. In spite of facing many challenges in translation, countries like Japan, Korea and more recently China are members of PPH program. In light of all this, it is my opinion that India should initiate a trial/pilot PPH program to gauge the effectiveness of the PPH model.